Good to know
Entry formalities
All foreign visitors to the Czech Republic must possess a passport valid for at least the next three months. Participants requiring visa should apply in advance to consular offices of the Czech Republic or diplomatic missions in their countries in order to avoid delay in travel to the conference.
Persons needing an official invitation letter in order to attend the conference may contact the organisers via e-mail sekretariat@bpp.cz. This service is designed only to assist participants who need to obtain a visa or permission to attend the conference. The letter of invitation does not financially obligate the conference organisers in any way. All expenses incurred in relation to the conference are the sole responsibility of the attendee.
For more detailed information please see the official website of the Ministry of Foreign Affairs of the Czech Republic.
Climate
The climate is a mixture of ocean and continental influences. Summer, from June to August, is usually warm. On average, highs are 24/26 Co. You can find the current weather at www.accuweather.com
Time Zone
Czech Republic is one hour ahead of GMT (UTC). At the time of the Meeting in June this will be GMT +2 due to Central European Summer Time (CEST).
Currency and Banking
Czech Crowns are the official currency in the Czech Republic. Foreign currency exchange is available at all airports and at most hotels, banks and exchange offices throughout the city. International credit cards are accepted for payment in hotels, restaurants and shops. Paying by cash in Euro is also possible in some restaurants and shops.
For the official exchange rates on the website of the www.cnb.cz
Electricity
The Czech Republic uses a 230V/50 Hz system. Sockets are the standard European type (two-prong round pin plugs with a hole for a male grounding pin are standard). To use electric appliances from your country you may need a special voltage converter with an adapter plug.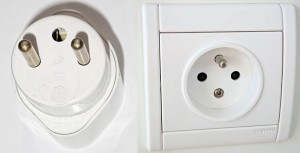 Important telephone numbers
| | |
| --- | --- |
| 112 | General Emergency for Europe |
| 150 | Fire |
| 155 | Ambulance |
| 156 | Brno Police |
| 158 | Police |
Tipping
No rules apply for tipping and the most common way to tip is to round the amount up. In more expensive restaurants, a 10% tip is suggested, but is not obligatory.
Liability and Insurance
The organisers do not accept liability for personal injury or loss or damage of private property of participants and accompanying persons either during or while travelling to the conference. Participants are strongly recommended to seek insurance coverage for health and accident, lost luggage and trip cancellation.
Programme Changes
The organisers cannot assume liability for any changes in the programme due to external or unforeseen circumstances. We will do our best to announce possible changes as soon as possible.